Welcome to HB Kunststoffe GmbH!
We offer you durable solutions for corrosion in concrete infrastructure like basins, artificial lakes, reservoirs, pump stations or inspection pits. Our solutions are suitable for drinking water, sewage water and industrial waters (incl. hazardous substances). We achieve this by professionally mounted and welded one- or two-layer panel coverings of the respective structures with polyethylene concrete protection panels. 
All our polymer welders are trained in-house and regularly certified by the TÜV-agency. Our panels are leak-proof and never experienced corrosion. The possibility of cyclic or permanent monitoring of the same offers additional assurance. Thereby, HB Kunststoffe GmbH offers an appealing and long-term alternative to conventional mineral coatings of corrosive structures. 
What you should know about our product
More and more consumers are interested in the quality of their tap water and request drinking water quality. At the same time increasing age and fermentation gas exposure of sewage infrastructure requires new, innovative solutions to protect population and environment.
PE-panel coverings offer a solution for both areas. 
Die Vorteile des Produktes
HB Kunststoffe GmbH mounts and welds PE-HD panel coverings on site without complex construction efforts. Our clients include water supply associations, cities and local authorities as well as construction companies and industrial companies. Our high standards in employee qualification and the quality of our services are a warrant that our clients have enduring satisfaction with our panel coverings. Regular client satisfaction surveys with results of 97% and more confirm the same to us.
More than 750 successful projects show, that we know what we do.
In 1998, Uwe Heubach, general manager and majority shareholder, founded his first PE-welding business.
In October 2003, Detlef Kleinschmidt joined as general manager and HB Kunststoffe GmbH was founded. The core team of HB Kunststoffe GmbH consists of fully trained and certified polymer welders. Annual re-certifications insure qualification and professionalism of our employees. Since 2007, internal management processes are continuously improved. In January 2008, the company was awarded the certification for its quality management system as per DIN EN ISO 9001:2000 by the TÜV Süd agency.
Heute beschäftigt die HB Kunststoffe GmbH 12 Mitarbeiter.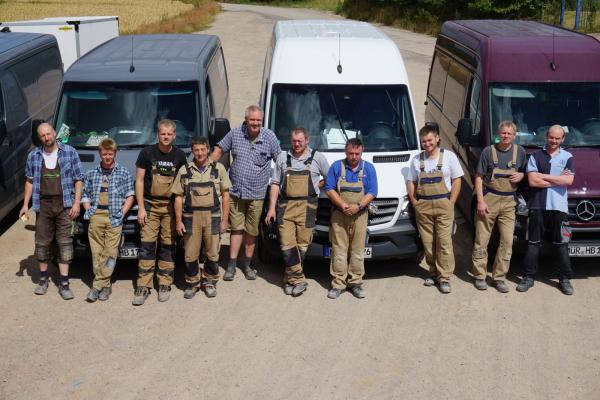 HB Kunststoffe GmbH
Laschendorf 25c
17213 Malchow